In the pre-Civil War United States, Solomon Northup, a free black man from upstate New York, is abducted and sold into slavery. Facing cruelty as well as unexpected kindnesses Solomon struggles not only to stay alive, but to retain his dignity. In the twelfth year of his unforgettable odyssey, Solomon's chance meeting with a Canadian abolitionist will forever alter his life.
2013
BluRay
12 Years a Slave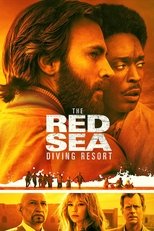 Wednesday, July 31st, 2019
Sudan, East Africa, 1980. A team of Israeli Mossad agents plans to rescue and transfer thousands of Ethiopian Jews to Israel. To do so, and to avoid raising suspicions from the inquisitive and ruthless authorities, they establish as a cover a fake diving resort by the Red Sea.
2019
BluRay
The Red Sea Diving Resort
Nick Flynn, in his 20s, hasn't found his place in the world yet, but hopes to be a writer. Around the time he takes a job at a homeless shelter in Boston, his father, Jonathan, who considers himself a great writer and who hasn't see Nick in years, abruptly makes fleeting contact. A few months later, the down-and-out Jonathan shows up at Nick's shelter and becomes a resident. This disorients Nick; he doesn't handle it well, compounded by Jonathan's belligerent behavior. Nick's memories of his mother, his budding relationship with a co-worker, and his own demons make things worse. Can anything improve? Is he his father's son?
2012
Being Flynn