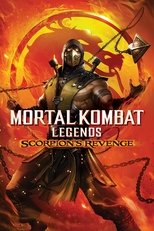 Sunday, April 12th, 2020
After the vicious slaughter of his family by stone-cold mercenary Sub-Zero, Hanzo Hasashi is exiled to the torturous Netherrealm. There, in exchange for his servitude to the sinister Quan Chi, he's given a chance to avenge his family – and is resurrected asScorpion, a lost soul bent on revenge. Back on Earthrealm, Lord Raiden gathers a team of elite warriors – Shaolin monk Liu Kang, Special Forces officer Sonya Blade and action star Johnny Cage – an unlikely band of heroes with one chance to save humanity. To do this, they must defeat Shang Tsung's horde of Outworld gladiators and reign over the Mortal Kombat tournament.
2020
BluRay
Mortal Kombat Legends: Scorpions Revenge
Sunday, August 23rd, 2020
It's the dawn of a new age of heroes, and Metropolis has just met its first. But as Daily Planet intern Clark Kent – working alongside reporter Lois Lane – secretly wields his alien powers of flight, super-strength and x-ray vision in the battle for good, there's even greater trouble on the horizon.
2020
Superman: Man of Tomorrow