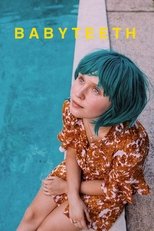 Friday, June 19th, 2020
When seriously ill teenager Milla falls madly in love with smalltime drug dealer Moses, it's her parents' worst nightmare. But as Milla's first brush with love brings her a new lust for life, things get messy and traditional morals go out the window. Milla soon shows everyone in her orbit – her parents, Moses, a sensitive music teacher, a budding child violinist, and a disarmingly honest, pregnant neighbour – how to live like you have nothing to lose. What might have been a disaster for the Finlay family instead leads to letting go and finding grace in the glorious chaos of life. Babyteeth joyously explores how good it is not to be dead yet and how far we will go for love.
2019
Babyteeth
Tuesday, July 14th, 2020
Long time friends Louise, Nina and Alice celebrate their recent graduation with hectic partying, joined by their friend Kane who is the only friend not to attend university. Louise's imminent departure for London adds to the underlying tension within the group, and as the boundaries between real and surreal blur, Louise devises an intervention to save their final days together. They embark on a road trip to regional Australia, and upon returning home face the reality of her departure. They are left, a group of suburban animals, on the threshold of their lives.
2019
Suburban Wildlife